Film Clip Credit:
ttp://www.youtube.com/watch?v=bowGBmlckDc&feature=player_embedded
Paulina Opoku-Gyimah says: Happy World Toilet Day folks (
http://www.worldtoiletday.org/
).. I thought I'd share the following by Afua Hirsch concerning the on going sanitation issues in the motherland… Do follow the link at the end and read the comment with regards to this piece -they are heartfelt. I really feel that the world at large likes/loves Ghana -and are rooting for us -and we [Ghana] need to get our act together -and start tackling real issues. As DavidWTN commented after Afua Hirsch's piece, "If we [Ghana is serious about getting out of poverty then we have to start with Sanitation -first" and I soooo agree.
There's no point in complaining about people urinating and defecating in gutters, on the streets or on the beach -when there are very few public toilets.. Ghana's Sanitation issues are real -and must be the number priority for the government -right now!!!
Ghana Rising would like to take this opportunity to thank "Sherri Thompson, popularly known as Mama Loo for her work building sustainable toilets for schoolchildren in Accra" -God Bless you.
"If you are serious about helping people out of poverty then you have to start with Sanitation First. This explains why: http://www.wherevertheneed.org.uk/our-work/sanitation "
DavidWTN
"interestingly, a lot of this plastic waste apparently comes from a solution to a previous sanitary issue. Everywhere you go people drink water from the small plastic sachets sold on the streets, then chuck them - one of the biggest culprits in blocking drains. But these were introduced because the old method - people sharing cups of water sold by vendors - was thought to spread disease. It shows how hard these problems are to unravel."
Hannover Tim (
http://twoyearsinaccra.blogspot.com/
)    
Ghana's Mama Loo wants sanitation push in country where poo is political
People are taking Accra's sanitation into their own hands as, despite showy clean-up campaigns, the authorities cannot cope  
By Afua Hirsch / Date: 13/11/12 Credit:
guardian.co.uk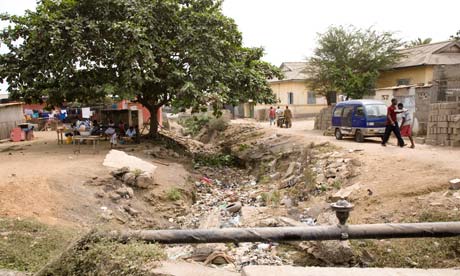 Ghana
's capital city, Accra, is in the midst of a major
sanitation
overhaul. High-profile "clean-up days", involving loud music, trucks plastered with slogans, sanitation workers, volunteers, journalists, police and ministers posing for the cameras as they shovel sludge from the streets, have been lauded as a way to engage the public with the need to clean up the city.
The need to clean up Accra is beyond question. The city has suffered
major flooding
in recent years due to large quantities of rubbish choking waterways.
Outbreaks of cholera
are frequent, and potential earnings from
tourism
are hampered by the use of the city's main beaches as a public toilet.
Accra residents say one of the major problems is the lack of private toilets, with 86% of the population estimated to be living without access to a toilet in their home.
"You cannot say the sanitation situation in Accra is good. The major issue is that many people here are coming from poor backgrounds and homes where there are no toilets," says Kingsley Obinkyeri, who runs a weekly radio show in the capital called Curious Minds, in which young people talk on air about their experiences of sanitation and other issues affecting their wellbeing.
"Sanitation issues are very, very important for young people," he said. "It is much harder for them to have to go out at night, for example, to heed the call of nature. And when girls are menstruating and there are no toilets in their school, they stay at home. So it begins to affect their education, too. If waste was handled properly, there would be opportunities for wealth creation – through organic fertiliser, biogas and recycling."
The problem of how to increase access to toilets has become a significant issue in
Ghana's upcoming elections
.
"[The lack of toilets in people's homes is] one of the main contributors to the bad sanitary conditions, especially in the cities … because people are going to the beaches and defecating and messing up the atmosphere," said the Ghanaian vice-president, Paa Kwesi Amissah-Arthur, during an election debate last week. "The first thing we have done is to reorient people away from this by creating a housing code that imposes a responsibility on landlords to have toilets in their houses."
But critics say the role of politicians in sanitation has only made Accra's problems worse. "The problem is that poop is politicised," said Sherri Thompson, popularly known as Mama Loo for her work building sustainable toilets for schoolchildren in Accra. "Public toilets are revenue-generating – hundreds, in some cases thousands, of people might visit a public toilet in any one day, and each pays a fee, so there is money to be made."
"Every time a different government wins, they get rid of whoever was previously operating public toilets, and give them to their 'veranda boys' [who control access] to operate instead," she said. "In some cases these groups take care of the facilities. But others are appalling. It's disgusting."
Thomas is one of many people taking Accra's sanitation into her own hands. Despite the clean-up campaigns, the authorities admit they are not equipped to cope. The Accra metropolitan assembly public health director, Dr Simpson Anim Boateng, recently told journalists that the whole of Accra is served by about 130 environmental health officers, some of whom deal with more than 100,000 residents.
In the
Ledzokuku Krowor
area of Accra, the local authority is open about the challenges it faces. "Waste management remains a challenge confronting the municipality, despite efforts so far made, and certain areas are characterised by choked drains, indiscriminate waste disposal and uncollected refuse in central waste containers," says the local government website. "[Waste can be found in] bodies of water, drainage systems and other open spaces."
"Notable factors include poor conceptualisation of sanitation; lack of adequate sanitary facilities; ignorance and irresponsibility; lack of community action; springing up of unauthorised temporary structures; a continuously increasing number of squatters; the lack of regular budgetary allocation for sanitation; and a virtual absence of fee-based service provision in low-income areas."
The government says it is tackling some of these problems with its public hygiene overhaul, including a national sanitation taskforce under the ministry of local government and rural development, and the creation of
Zoom Alliance
– a private waste-collection entity that is conducting an anti-littering ad campaign, and distributing bins and rubbish bags.
But critics insist that these measures do not address the critical lack of resources for municipal authorities whose job it is to deal with waste, and the need for wide-ranging re-education. "I personally doubt that these activities will have the desired long-term effect," said Adam Reese, a local journalist who follows sanitation in Accra. "I believe that sanitation habits are cultivated and reinforced over the course of a lifetime, and I doubt a single government-funded event can fundamentally transform long-held attitudes."
• This article was amended on 15 November 2012 to correct the name of Sherri Thompson
Source:
http://www.guardian.co.uk/global-development/2012/nov/13/ghana-loo-sanitation-poo-political?INTCMP=ILCNETTXT3487