1)Noelle Bonner -Fashion PR/Blogger/Model(http://www.fashionfixxation.com/)
2) Aya Brace -Photographer (http://ayabrace.tumblr.com/)
4) Rebecca Osei-Baidoo -Buyer for Browns London
5) Melissa Holdbrook-Akposoe -Fashion Stylist / Blogger (http://melissaswardrobe.blogspot.co.uk/)
6) Demi Mensah -Model/Dancer (

https://twitter.com/Demi_Mensah

)
7) Fleur -Singer (https://www.facebook.com/fleurofficial)
8) Jacklyn Laryea -Illustrator & Poet (http://jackielaryea.com/blog/)
9)
Adwoa Aboah -Model (http://www.stormmodels.com/)
10) Juliana Kyerewa -Fashion PR
11) Anbuley -Singer (https://www.facebook.com/anbuley
12) Simone Tetteh -American Vogue Booking Associate (https://twitter.com/SimoneTetteh)
13) Omenaa Mensah -TV Presenter/Model
14) Menaye Donkor Muntari -Model /Miss Universe Ghana
2004/Entrepreneur /Philanthropist
(http://www.menaye.com/)
15) Afua Boni -Model/Blogger (https://www.facebook.com/afuaboni
16) Leila Adu -Musician & Fashion Icon (
http://www.leilaadu.com/
&

https://www.facebook.com/LeilaAduMusic

)
18) Nana Agyapong aka Nana Ghana -Director/Musician/Visual/Artist (https://www.facebook.com/1NanaGhana)
20) Erzumah Ackerson -Fashion Designer (

http://twitter.com/BestowElan

&

http://www.bestowelan.com/

)
21)

Fransesca Quartey - Actress /Theatre Director / Vintage Fashion Blogger (
http://divasvintageme.blogspot.com/
)
22) Sharifah Issaka -Journalist / Travel writer/ Photographer (http://wizsharifah.tumblr.com/)
23) Lady Jay -Singer (
https://www.facebook.com/ladynancy.jay
)
24)
Ms K -Fashion Blogger

(
http://www.africanprintinfashion.com/
&
https://www.facebook.com/AfricanPrintsFashion
25) Doreen Afriyie
-Fashion Blogger (http://stylishedforever.blogspot.co.uk/)
26) Lois Opoku –Fashion Blogger (
http://lisforlois.blogspot.co.uk/
&
https://www.facebook.com/lisforlois
)
27) Samata Angel -Fashion Designer/Fashion Entrepreneur (http://samataangel.com/)
29) Clara Amfo -

Radio Presenter/ DJ

-
https://twitter.com/claraamfo
30) Faustina Agolley -TV Presenter / DJ
https://www.facebook.com/Faustinathefuzz
)
31) Olivia Asiedu-Ntow -Fashion PR (http://www.rebrand.com/2013-juror-olivia-asiedu-ntow)
32)

Freema Agyeman -Actress (
http://freemaagyeman.com/
& https://twitter.com/FreemaOfficial)
33) Ajepomaa Mensah -Fashion Designer (https://www.facebook.com/ajePomaaDesignGallery &
http://www.ajepomaagallery.com/)
34) Maame Asiedu -Make-up Artist
35) Dee Maat -Fashion Stylist / Blogger (https://www.facebook.com/pages/Style-Check-BY-DEE/165004256898968)
36) Love Kyei -Beauty & Fashion Blogger / Teacher (https://www.facebook.com/AbenaLoveHairandBeauty & http://abenalove.tumblr.com/)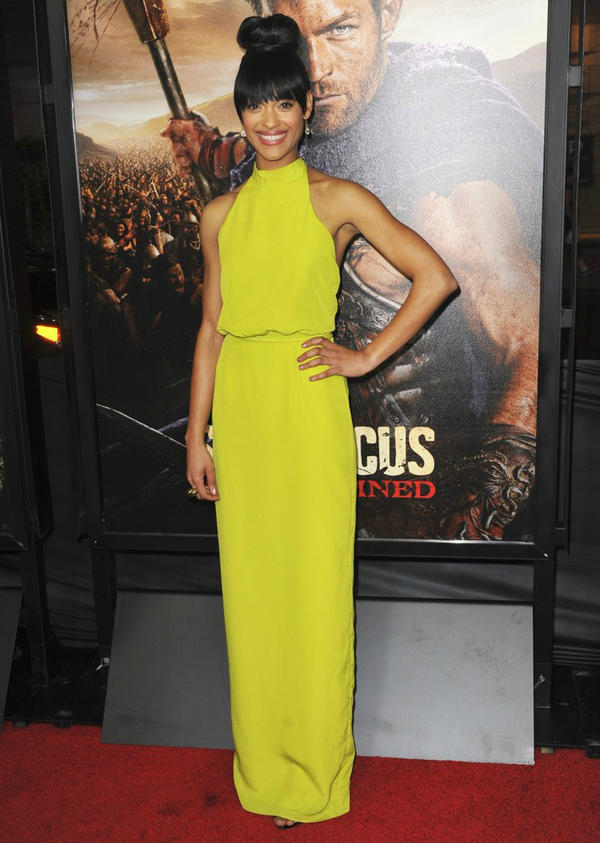 38) Sandra Ankobiah -TV Presenter (https://www.facebook.com/Fashion101gh)
39)

Christina Opoku -Dancer
40) Jojo Abot -Singer/TV Presenter/Model (https://twitter.com/JojoAbot & https://www.facebook.com/JojoAbotmusic)
41)Salome Munuo –Stylist, Fashion Editor and Director at The Daily Express, & OK Extra magazine

(
http://www.fashionsos.co.uk/
)
42) Akua Afram -DJ (http://www.ariesmusicconsultancy.blogspot.co.uk/#! & https://twitter.com/DJ__Aries)
Credit: Onefotos (
www.facebook.com/OneFotos
)
43) Deborah Vanessa Owusu-Bonsu -Singer/TV Presenter/Artist (https://twitter.com/deborahvanessa7 & https://www.facebook.com/deborahvanessa007)
44)

Marian Kihogo -Fashion Icon /Stylist & Blogger (
http://mariankihogo.com/
)
46) Ama K. Abebrese -Actress / TV Presenter(
(
https://www.facebook.com/pages/Ama-K-Abebrese/104691221153
)
)
47) Nuala Hafner -TV Presenter (https://twitter.com/nualahafner)
48) Joselyn Dumas -TV Presenter & Actress (https://twitter.com/Joselyn_Dumas)
50) Ohemaa –Co-Founder of GFDW /Fashion Blogger/Style Consultant (http://www.shaddersafrica.com/)
52) Yvonne Nelson -Actress (https://www.facebook.com/pages/YVONNE-NELSON/63275426166)
53) Emelia Burns -Actress
54) Samia Yaba Nkrumah -Politician

(

http://www.facebook.com/pages/Samia-Nkrumah/202592016435991

)
55) Edma Ohemaa Lawer -TV Presenter/Model
56)

Belinda Baidoo -Model & Entrepreneur (
http://b2models.com/
)
63) Dzigbordi Kwaku Dosoo - TV Presenter/ Life Coach/
Socialite (https://www.facebook.com/pages/Dzigbordi-Kwaku-Dosoo-Page/133858519998803)
64) Leila Afua Djansi -Film Director (https://www.facebook.com/pages/Leila-Jewel-Djansi/146456062063657 &
http://en.wikipedia.org/wiki/Leila_Djansi
)
65) Melanie Crane –Actress/Fashion Designer (

https://twitter.com/MELANIECRANE

&
66

) Bridgette Amofah -Musician (
http://www.myspace.com/Bridgette%20music
)
68) Jasmine Baroudi -Actress
70) Diana Duah -British Vogue's Art Coordinator
Paulina Opoku-Gyimah say: Stylish women of Ghanaian origin, gosh that's a hard one, - there are far too many of them, but as you all know, I like a challenge……..but where to start?
I started this list about three months ago –and was determined to 'do' the top 30, then the top 40, then it escalated to the top 50 – but I just couldn't stop –and it kind of took over (laughter)…
I think it's best to start with why I want to do the best dressed women of Ghanaian origin list and why it matters to ME!!!
An incredibly stylish community, there were no best dressed lists about the Ghanaian community until I posted one on La Ghana Rising Blog in 2011 (http://ghanarising.blogspot.co.uk/2011/12/world-exclusiveghana-risings-2011-most.html).. –I think it matters with regards to the world at large to know about 'The Stylish Ghanaian Woman' and the roles she plays in some of the most competitive industries in the world. Plus, I truly enjoy celebrating and sharing this incredible group of stylish women with the world!!!
Thinking about who should or shouldn't be on the list made me dig deep and look back over my own fashion journey……
Her love of beauty products, her twice monthly visits to her hairdressers to have her hair relaxed or steamed, or washed and plaited –have all shaped me.
Like most Ghanaian women of her generation, my mummy is beautiful ….but not easy [mercy], ambitious but contained, –and her style has stayed pretty much the same –like say, the Queen of England.
My mother's other wardrobes consists of her work wear, her home wear -something I also have with mine mostly filled with white Muji t-shirts and vests and George of Asda £5 jogging bottoms.. But note, –said 'home wear' wardrobe is very different to say -the; 'visitors-are-coming-right-now' wardrobe!!!
Years of her dominating goddess-titan-women-don't-hold-forks-like-that-they-hold-it-like-this verve had me fleeing in the very opposite direction of her polished style. Thus, I was more laissez faire with my own fashion. Preferring a more organic style say -just wearing whatever I wanted, basically..
Her 'Are you wearing a slit under you skirt' when I had no intension of wearing one under my sort of long t-shirt (worn as a dress) –years later were a battle but my rebellious nature won!!!
Now…. I still dare to go outside without earrings (laughter)…

I guess my mother's obsession with my sister and me wearing earrings means that I very rarely wear them but I think we all rebel against those little things –our parents wanted us to do –once in a while ---no?
Having been brought up in Ghana, my mother like most of her generation –was all about aspirational fashion and second-hand clothes were a no, no!!!!
I got a part-time job in my local 7-11 shop on Waltham X high street at the age of sixteen, –and after I had given 50% of my wages to my parents – (my father's idea??), I was allowed to do with the other 50% whatever I wanted, after I had budgeted and saved some money (also my father's idea…honest-to-goodness I love my dad, he's sooo special).
Because my mother was all about Hello magazine -and my father all about Africa (he used to have one magazine regularly delivered to our house –I think it was called Africa today??) – Vogue and Elle became my 'thing'!!!
My first Vogue had a woman pulling a bull through the fashionable streets of London -and was styled by Harriet Jagger!!

–You won't believe this, -but years later, I assisted Harriet Jagger on a couple of shoots for Condé Nast –and even got to spend the night at her incredible home in chichi Richmond, –where she showed me said cover and the rest of her incredible portfolio!!!
Alongside my escapades in charity shops where I learnt the difference between silk and polyester and got very experimental with my fashion,- I started to learn about the beauty of vintage, real vintage –you hear!!!
I would spend all my 'free' Saturday afternoons trying on fabulously flashy pieces with the likes of the soon-to-be-Victoria-Posh-Spice (I think she lived in Cheshunt) and Hertfordshire and Essex's finest!!! And with owner Brenda happy to let me pay for the 'coveted' ---a bit-at-a-time, - I soon amassed a wardrobe full of glitzy, designer bits-n-bobs.!!! And even though I'm no longer glitzy, I have such fond memories of my shop-scapades at Tarts…
From designer-wag-come-eclectic-vintage-second-hand-style-maven, I went decidedly Ja-fake-ian and got into dancehall, I'm not kidding; - I could drop a yardie accent like no other!!!
Both my little sister and I went through this phase, and it wasn't easy for my mother –what with her Fanti sensibilities (laughter) and aspirational lady-like verve..
Sooo, after dossing about for years (I kid you not), I came back down to earth with a fashionable bump, stopped my running about -and had to get serious (father's words), –and started my real fashion journey!!!

I went on to intern and work at various magazines…
This was the most experimental part of my fashion journey. I discovered labels like:

Preen, Tata-Naka (http://www.tatanaka.com/)
Boudicca (
http://boudiccacouture.com/
), Eley Kishimoto (
http://www.eleykishimoto.com/
), and PPQ (
http://www.ppqclothing.com/
); hot boutiques like: Koh Samui (
http://kohsamui.co.uk/
), Rellik (
http://www.relliklondon.co.uk/
) and Bang Bang (
http://bangbangclothingexchange.co.uk/)
... Bang Bang is still the best place to sell or exchange your designer gear. -And uber hangouts like: Momo's, St Martins Lane http://www.stmartinslane.com/), Fifth Floor Harvey Nichols, Sanderson Hotel (
http://www.sandersonlondon.com/
) Quaglino's and Charlie Wright's Music Lounge (
http://www.charliewrights.com/)
.....
And like me, all the fabulous fashionistas above know how to pull it out of the bag –when needed!!!
The thing is… Ghanaian women are not only uber creative, but we have been blessed with the ability to go anywhere, any place, any time –in the world -and fit in, whilst letting our starlight –shine, without that 'chip-on-the-shoulder' thingy…that seems to befall some of our fellow sisters!!!
And it's not because Ghanaian women don't care, or aren't political or whatever, -because we care greatly, –but because we are born to survive and ultimately, –win, and win with a smile on our faces (mercy)!!!!
Ghanaian women are lionesses veiled as rabbits!! Ghanaian women are calm swans above the waters of life, peddling like warriors beneath, –remembering always, that as 'good' Ghanaian girls, –we must put (without fail) our best foot forward –always…..
We are trendsetters, forerunners and creators,-think Yaa Asantewaa, Sojourner Truth, Harriet Tubman and Nanny of the Maroons (Jamaica) –all these formidable warrior goddesses are all of Ghanaian origin and that same pioneering, innovative, idiosyncratic spirit can be found in all the above fashionistas…
The
stylish woman of Ghanaian origin is bodacious. She is fierce, unafraid and unperturbed; mixing her heritage prints (Ghanaian wax prints cloths or Kente) with her vintage finds from the flea markets of Paris, London and New York.
Today she might be sassy and eclectic, –mixing different textures and designs, but tomorrow she is pared down and uber minimal in garbs by a new designer that's just about to 'blow'!!!
She might be sporting the perfect weave, long and dark and glossy with bangs today, but tomorrow, she will be afro diva extraordinaire –it's her propagative after all.
At the very cutting edge of fashion, the above 'fashionistas' have many cultural layers. They mix clothes by African and European and American and Asian fashion designers -together. They eat foods from around the world. They are well travelled. They work in all ndustries and pay their own rent!!! And they are not to be trifled with!!!
Exciting and daring –the stylish Ghanaian woman is not easily categorised –and why should she be? She is unique after all..
Buzzing and energetic, contained and stylish, fun, sexy, passionate, ambitious and creative, her eye-for-detail, her desire to be the very best –her best, the Ghanaian woman is that bright young thing riding the tube with a copy of Grazia; she is that woman of colour –surrounded by people of all colours, creed and

race at that bar in Hoxton, -she is that woman reading the news in Ghana, she can also be found in the upper echelons of all industries in all countries –around the world, -and even though it might not be obvious as to where she hails from at first glance, -this sister with her bright eyes, fearlessness, unshakeable smile, sexy, something, something verve –is about to go stellar!!!