Title: Ghana's celebrity preachers clash over prophecy of president's death...
Rival pastors in unholy row over prediction of imminent disaster..
By Afua Hirsch Dated: 27-2-2013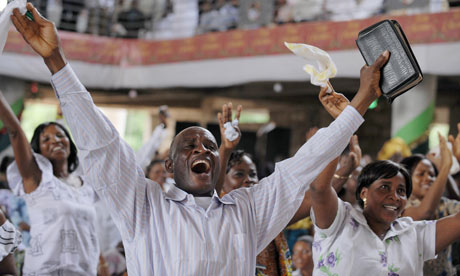 They prefer to be known for preaching about peace and loving thy neighbour, but
Ghana
's celebrity pastors are becoming embroiled by a rather ungodly row.
A well-known pastor has sparked outrage amongst his colleagues by making what Ghanaians are describing as an "earth-shattering" prophecy, that the president John Dramani Mahama, will die this year.
The reverend Isaac Owusu Bempah, founder of one of Ghana's burgeoning new charismatic churches, the Glorious Word Ministry International, says that the message came to him directly from God.
Owusu Bempah, who first announced the prophecy on New Year's Eve and has repeated it several times on local radio, has also cautioned that the president's refusal to meet him might hamper attempts to avert the disaster.
"I have not been able to meet the president and inform him. A similar thing happened when I prophesied about the late President
John Atta Mills (who died last year)
, but they turned me away," he said.
But senior figures from other churches have hit back at the prediction, claiming it was unethical, and did not meet the criteria of a genuine prophecy.
"According to the new testament, if you give prophecy, it should edify, exalt or confirm," said Bishop Dr Charles Agyin Asare, founder of the Word Miracle Church International and former vice president of the Ghana Pentecostal and Chariasmatic Council. "The scripture says we should judge prophecies to see whether they be of God, not that we should swallow them hook like and sinker. If I were to judge this prophecy, I would judge it incorrectly," Agyin Asare added.
Dramatic prophecies are not uncommon in Ghana, where churches are big business and celebrity pastors compete to fill conference centres, theatres and arena for special weekend long services and prayer gatherings.
Agyin Asare, one of Owusu Bempah's main critics, says he himself was called to ministry after hearing the audible voice of God in 1983 calling him to "heal the sick, raise the dead, preach the kingdom."
But less than a year after Ghana's last president John Atta Mills died suddenly in office, there has been limited appetite for predictions of doom in the presidency.
"We lost our president last year, and if [Owusu Bempah] was really concerned, the president is a Christian, he has a pastor, he could seek audience with him. But if you just dump your prophecy into the public domain, then you are just trying to scare people. That is not what a Christian minister is supposed to be doing," Agyin Asare said.
Owusu Bempah was not available for comment, but it is not the first time the reverend, who is a regular fixture in the media in Ghana, has warned of impending disaster. A previous prophecy that Ghana could descend into civil war during December elections failed to materalise, after a new government was elected peacefully.
He is not without controversy. In 2011 he was accused of impregnating a member of his congregation whose mother brought her to the church to be exorcised of an evil spirit. Owusu Bempah denied those allegations, blaming a junior pastor in his employment who he said had fathered three children simultaneously with members of the church. He admitted taking the young female member of the congregation in to live with him in his home.
There is no official regulator of churches in Ghana, where two-thirds of the population is Christian and church attendance is high, although no figures exist. But some Christians are critical of the conduct of Ghana's churches. "Most of these churches and their leaders are affiliated to a political party, they just make money out of the ignorance of the people," said Charlotte Biney, 49, a resident in Accra. "The churches hypnotise them and the people believe whatever they say. Even educated people fall for it – deep down in our culture most of the people believe in spiritualism and devilish spirits. It's mind-boggling – sometimes you look at them and ask yourself what's wrong with them."
Such is the level of concern about the conduct of some churches that even pastors said that there should be closer monitoring of the activities of church leaders. "I think that there should be more ethics in ministry," said Agyin-Asare. "Being a pastor doesn't mean you are not accountable – you should be accountable to your church and you should be accountable to a group of ministers. As human beings we are not perfect – God calls imperfect people to do his work."
"The thief comes only to steal and kill and destroy; I have come that they may have life, and have it to the full."
John 10:10
"There is a time for everything, and a season for every activity under heaven. a time to be born and a time to die, a time to plant and a time to uproot."
"For God is not the author of confusion, but of peace, as in all churches of the saints." 1 Corinthians 13:43 King James Version
"The Spirit of the Sovereign LORD is on me, because the LORD has anointed me to preach good news to the poor. He has sent me to bind up the broken-hearted, to proclaim freedom for the captives and release from darkness for the prisoners." Isaiah 61:1 NIV
"For God so loved the world that he gave his one and only Son, that whoever believes in him shall not perish but have eternal life." John 3:16 NIV
"Therefore, my dear friends, as you have always obeyed--not only in my presence, but now much more in my absence--continue to work out your salvation with fear and trembling."
Philippians 2:12 NIV
Paulina Opoku-Gyimah says: I don't know when Christians (I'm one of them), stopped reading the bible and started to rely on sooo called MEN OF GOD to spoon feed them ---'their' interpretation of the WORD OF GOD!!!
Because, if what I'm seeing is to be believed, then we are slowly moving out of the, '50 Cent Get Rich or Die Trying Sakawa Prosperity Preaching'

era and into the DEMONIC 'Condemnation Preaching All Die Be Die' epoch. Meaning folks---that it's time for we real God fearing, 'seek him first and all else shall be added' Christians to --- not only start praying but to start reading the word of God for ourselves, or else --- we will perish from our lack of knowledge!!!
Because. And I'm entitled to my opinions, I don't believe for one minute that this' Condemnation Preaching or Prophecy' or whatever is of GOD because from the little that I know, only God knows the time and the place of when we will all die, and if ---he was to reveal it reveal it to one of his prophets say--- then surly that would have been reveal so that the MAN OF GOD could pray against it!!!!!
I remember hearing a testimony many moons ago by a 'middle American' business man who had had one of those near death experiences ---only he had really died and was taken to hell..
I remember him describing HELL sooo clearly that I decided to spend my life 'working out my salvation with fear and trembling' … But the biggest most lasting memory from said testimony was ….that HELL was full to bursting with sooo called MEN OF GOD (mercy)!!!! And I have never forgotten said testimony and truly believe it!!!
I find it amazing that our loving God the Father, who so loved the world, " that he gave his one and only Son, that whoever believes in him shall not perish but have eternal life", -a God who is not, "the

author of confusion, but of peace" –and a God

who sends out his servants (because that's what true MEN OF GOD are -servants) to, " preach good news" –could ever turn against his word and start condemning people to death through his servants!!! Thus I will put it to you ….that proclaiming death when only God knows, " the hour" is not of GOD but of MAN!!!
It's important for these soo called men of God to remember that all the days ordained for President John Dramani Mahama, "were written in' God's book before one of them came to be"

-and that ultimately, "the Lord's will" for President John Dramani Mahama's life -will come to pass, whether they like it or not!!!
I pray the 'Blood of Jesus' over Ghana's democratically elected President John Dramani Mahama, his family and over Ghana and its people –AMEN!!!. I don't whether he's good or bad or kind. Whether he's loves Ghana or not, but I know that what I'm reading concerning various sooo called MEN OF GOD prophesying that he will die this year is wrong, –totally wrong, and dare I say it, maybe even threatening… Lawyers should be called!!!
Because w

hat started out in one of the countries to our EAST has now eaten its way into the churches of Ghana and we need to pray it out ---In the NAME OF JESUS, AMEN!!!
And whether it's God's will for Ghana's democratically elected President John Dramani Mahama or me or you to pass this year ---is none of ours or their [sooo called MEN OF GOD] business but God's…
The government of Ghana needs to start tackling the churches in Ghana---free speech is ok, but defamation and curses and death threats…(because that's what

'Condemnation Preaching' is all about) ---are a no no!!!
If our Lord and Saviour Christ Jesus came so that, "we may have life and have it in abundance" then anything contrary to this is NOT OF GOD!!!!
Remember always that the, "thief comes only to steal and kill and destroy" but our Lord and Saviour Christ Jesus came that, "we may have life, and have it in abundance" –Amen!!!